on
March 19, 2012
at
12:37 pm
Hi guys.
So as you all know, I've been on a bit of a break to sort out some health worries and to refocus on this project among others. It's brought me to think about this project as a whole and the future of the comic as a piece.
BW is terribly important to me. Probably a bit too much so. I find it hard to think of life without it. It encapsulates the core of my ideals in storytelling and even though I don't necessarily believe it's gonna take over the world any time soon, I do want it to stand strong as a representation of who I am and what I do.
I've been seriously considering how it does that in its current form however. Every time I consider this, there is a big elephant in my room that I've been struggling to either ignore, or be cool with. And that is the huge and striking difference between the quality of Part 1 and the rest.
Part 1 is a very different animal to the rest. I created it for my degree in 2009. It was the first time I had not only created a comic in full colour, but I actually taught myself to paint digitally via its creation. It represents a new way to make comics for me. Concentrating on atmosphere and feeling with an air of grandness I'd never ventured into previously. It changed the game for me. I'd originally planned to continue the comic in black and white inks in a very standard way, but due to the reaction I got, I decided to just continue as it was.
However, I started the second chapter just under 1 year after completing part one. I was already a different person at the time. I had learned far more in the way of painting, pacing and dialogue. I stumbled along for the first half of part 2 and made a balls of it but halfway along I hit a new stride. My work made a quantum leap in quality and my methods and philosophy in quality took on a new life. It caused me to look back on part 2 and decide that the first, somewhat shady looking, half of said chapter must be replaced to meet the standards of the rest of the comic. I did so, recieved pretty much no interest and more "Oh it was fine the way it was" comments, which I must say, hurt at the time. I then vowed never to redraw any part of the comic again lest I be faced with the same disappointment.
Time has passed, seasons change etc. etc. and I'm finding myself in the position I'd vowed never to let myself fall into.
Part 1. It needs an overhaul.
I'll probably be met with disdain for doing this. I doubt anyone will be excited or even vaguely interested in my plans. ( I posted a question on tumblr and twitter to see what people thought and I got absolutely NO response, who needs friends eh? haha!) And it got me thinking even more.
No one cares. People might make passing statements that I shouldn't do this and that, or as is the case, ignore me completely. I realised that if no one cares, why should I?
The fact is, I have no evidence that this comic is as important to anyone as it is to me. that my fears can just disappear into a sea of internet without even a passing comment shows me I need to take the decision fully into my own hands. I'm going to rewrite and redraw 100% of part 1.
I'm not going to change any of the fundamentals, the story will be the exact same, the same stuff happens. I'm just going to tell it better. Way WAY better. I want to close up a few of the plot holes that gape ever wider at me every update. I'm going to tell far more in a far more economical and effective way and I'm going to make it FUCKING GORGEOUS. And most of all, it will fit, and I will be happy with it.
When my luck changes and I'm not living hand to mouth, I'm going to print it, along with several future chapters into the most awesome book the world has ever known. And I'll be proud to call it mine.
I can understand if there are going to be naysayers. I understand the "fine as it is" sentiment. But the fact that life is so hard for me right now shows I shouldnt be compromising myself by the past. The original part 1 was incredibly rushed. I was banging those pages out at lightning speed, working 15 hours a day. I had a very tight deadline and really didnt know myself. I didn't feel then, and I don't feel now that I properly had my say. So now, I'm going to have my say.
Thanks.
PS: I did this test for a bit of fun yesterday, will that convince people? XD
Zee old: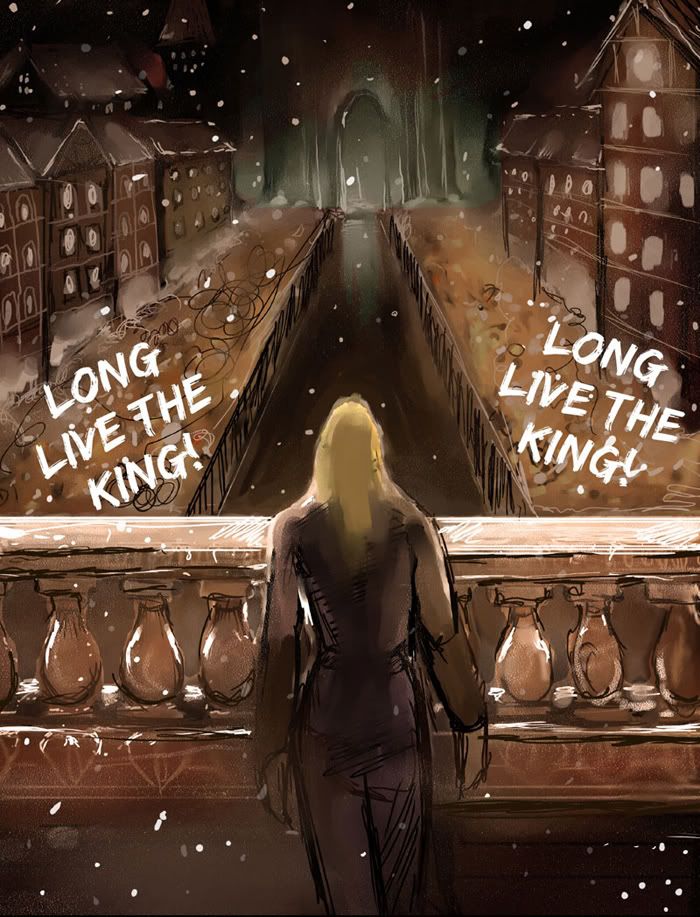 And zee NEW!